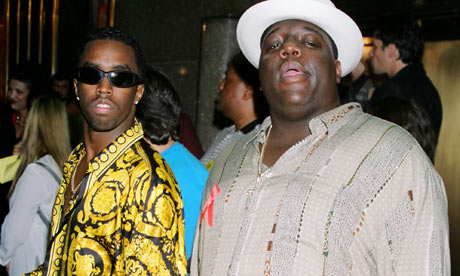 The following people contributed many beautiful words...
Khayree ft. Mac Dre - "Back 2 My Mission"
(1997)
There are a fair few A-Day-In-The-Life-Of.. joints in Mac Dre's vast oeuvre, but only one of them starts with a line which can stir such a dichotomy of impulses in a heterosexual man's loins as 'Back 2 My Mission's opening salvo of "woke up one morning about 6 o'clock/dick still smelling of spit and cock". The 90s, of course, were a more innocent era when regional Gangsta-Rappers like Mac Dre, Pimp C, Scarface et al could still use the word cock as a euphemism for vagina without having to postfix it with a NO HOMO! ad lib so just enjoy this highlight of Khayree's 'The Blackalation' album for what it is: a stone-cold classic Dre jam that's embellished with piercing guitar and multiple PAUSE!-worthy lines.
—
Richard Tre Mane
Moonsatellite - "Mackin"
(2011)
"Mackin" is a one and a half minute track that appears on a six minute instrumental EP called Strange Dimensions by producer Moonsatellite. It lifts an obscure verse by Fatlip of the Pharcyde, but you can't really call it a remix for the same reason that you can't call "Otis" a remix of "Try A Little Tenderness." It's more than semantics: Moonsatellite treats the dorky vocals like another set of sounds just like he would with a soul sample. Even though Fatlip's verse remains intact, the main voice on the track is the drumless horn and piano loop. That's where "Mackin" gets its distilled melancholy. Fatlip might as well be saying anything.
—
Evan Nabavian
Souls Of Mischief - "Cab Fare"
(19??)



One of my favorite TV shows ever is "Taxi," which features the Bob James song "Angela." In the mid 1990's, when people denied that "real Hip Hop" lived in the West, SOL (in part with Del the Funkee Homosapien's Hieroglyphics crew) was part of a state-wide movement to put Cali lyricism on the map. This song, which samples "Angela," is a cutting room throwaway track whose existence to me was only Hip Hop folklore until I retrieved it from the internets. If you dig Hiero, this is an unreleased gem.
—
Tony Grands
Proof ft. T3 - "The Fizzo"
(1994)
Most of the
contents of my "DILLAAAAAA" folder on my laptop comes as a result of anonymous YouTube
soldiers putting me up on things I hadn't yet heard, but this one came courtesy of the normally
super-annoying Peter Rosenberg, who let it loose last year. It sounds so nine-four because
it's from nine-four, which means Dilla—Jay Dee, excuse me—was 20 and Proof was 21
and the use of horns on a rap hook was approximately 5 or 6 years old. Jay started work on
Labcabincalifornia right around this time frame, and from what I hear, his creations went on to
be pretty well-received among producers and music fans.
—
Logan Melissa
Young Dro - "On A Pill

"
(2009)
Young Dro's singing can be a very dicey proposition. Most of the times it is a cause for great concern, as auto-tune and far too much earnestness will be assaulting your ears when it happens. "On A Pill" doesn't really feature Young Dro singing, but the hook of the song isn't too far away from those sung tracks, because once you start saying "I'm Clean...I'm on a pill" it will never leave your brain. Young Dro's ability to rap has never really left him in the last few years, but the fun word play that made

Best Thang Smokin'

an underrated classic has been harder and harder to find in his music. Yet, "On A Pill" features Young Dro rapping in top form and paired with an unforgettable hook, results in a song you want to listen to whether on something or just loud enough that your neighbors know what you are listening to as the bass hits the concrete.
—
David Turner
Rick Ross - "Cigar Music"
(2008)
By Rick Ross' own admission he's the
"
down south Nas with a clique so Firm
"
. Quite an ambitious embodiment, but unlike superficial claims we've heard from Common, School Boy Q, and countless others over the years, in this instance the comparison is actually warranted.
Deeper Than Rap was an
unofficial sequel to
The Firm's self-titled debut, which a colleague of mine once eloquently described as a mafia film directed by Micheal Bay
.
Despite stiff competition, nothing on the album captures the mafioso aesthetic as well as its bonus track 'Cigar Music'. I imagine Rozay ditched his XXXXL crew necks in favor of Frank Lopez's

vicuna

butterfly collar collection immediately after hearing Bink's lavish instrumental. And to think, all those years we'd been smoking Cohiba Esplendido's without befitting theme music
.
—
H.L.
Gucci Mane - "Bachelor Pad"
(2008)
Gucci's '07-'09 output remains largely unexplored; he recorded so many incredible verses during that era that it's difficult to think of any rappers -- at least since '04-era Bun B -- who could compete with his consistency. His innovation on the business side was to just make himself seem ten times as generous with content as any other rapper, recording as much material as possible but making it as entertaining to the Gucci head as to the newcomer. His key musical innovation was to combine his heroes in UGK into one person; he was both the lyricist and the songwriter, constructing endless hooks and song concepts while dropping the funniest and hardest verses that were a lot more tightly written than most would admit. One track that I thought never got its fair due -- despite being on Gucci's most popular mixtape from '08 -- was "Bachelor Pad." The beat has a really unconventional rhythm, and it's this uneasy half-shuffling, half-chugging groove that sets the song's queasy mood. No one could capture intoxicated cockiness with a hint of madness like Gucci: "Fuck her with my jewelry on 'cause Gucci Mane's a gangster."
—
David Drake
Trouble - "Dis Ain't Ordinary"
(2011)
I'm kicking myself for not picking up Duct Tape Mob newcomer Trouble's excellent December 17th
mixtape sooner, but you can't be up on everything, right? For my money, Trouble sounds like a more
lyrical Flocka, portraying the same fatalistic street life scenes but with the limber wordplay to back it up
and an ear for somber beats. Trouble's ace in the hole is his way with melody, though, best exemplified
on "Dis Ain't Ordinary", where he channels his inner Kells for a track whose poppy chorus is at exact
loggerheads with its hardheaded trash talk. I mean, this guy can pull off sneering menace, comedy, and
R&B at damn near the same time. Wait until the mainstream audience catches on...
—
Craig Jenkins
King Freako ft.
Rydah J. Klyde
- "El Pueblo CA"
(2001)
I remember a time when I had less than two dollars to my name, was underemployed, friendless, hungry, and had nothing really to look forward to in life. That feeling of misery, hopelessness and simultaneous anger is something that really sticks with you for a long time, and this song is the soundtrack to that feeling. Rydah J. Klyde of the Mob Figaz and King Freako of the Ghetto Starz team up on this track to paint a grim picture of the cyclical poverty that affects millions of people across the country. The song's chorus resonates that point best, with Rydah J. Klyde singing about how everyone in his neighborhood is "dying to survive." The singing is off-key, but the emotion expressed still resonates firmly with the listener. Producer Rob Lo crafts a subtle, earthy, and organic beat that matches the somber lyrics perfectly. The murder of King Freako in 2004 only further stresses this song's message about the struggles so many people go through in this country just trying to live.
—
Thomas
Dusk + Blackdown - "The Bits"
(2008)
Okay, okay, grime isn't exactly rap. And even the British struggle to take MCs with British accents who aren't Slick Rick seriously. But regardless, this record features some of the best wordplay in recent memory. Over slippery sino-chimes provided by Martin "Blackdown" Clark, the Roll Deep Crew's exiled wordsmith describes himself as a fallen angel and pushes away fake friends with the elusiveness of a shapeshifter. If anything, it feels like a weird hybrid of Lil' B's based freestyle sagas and Dizzee Rascal's earliest paranoid misanthropic yelps.
—
Maxwell Cavaseno